Civil Air Patrol's Vermont Wing, acting as the official auxiliary of the U.S. Air Force, has been assisting the Vermont National Guard and its partners with food distribution throughout Vermont during the COVID-19 pandemic.
"Our cadets and senior members will do our best to support the Guard in its vital mission of providing fresh food to our neighbors in need," said Col. Ann Brechbuhl, Vermont Wing commander. "These are historic circumstances, and our members are stepping up every day to help communities all around the state."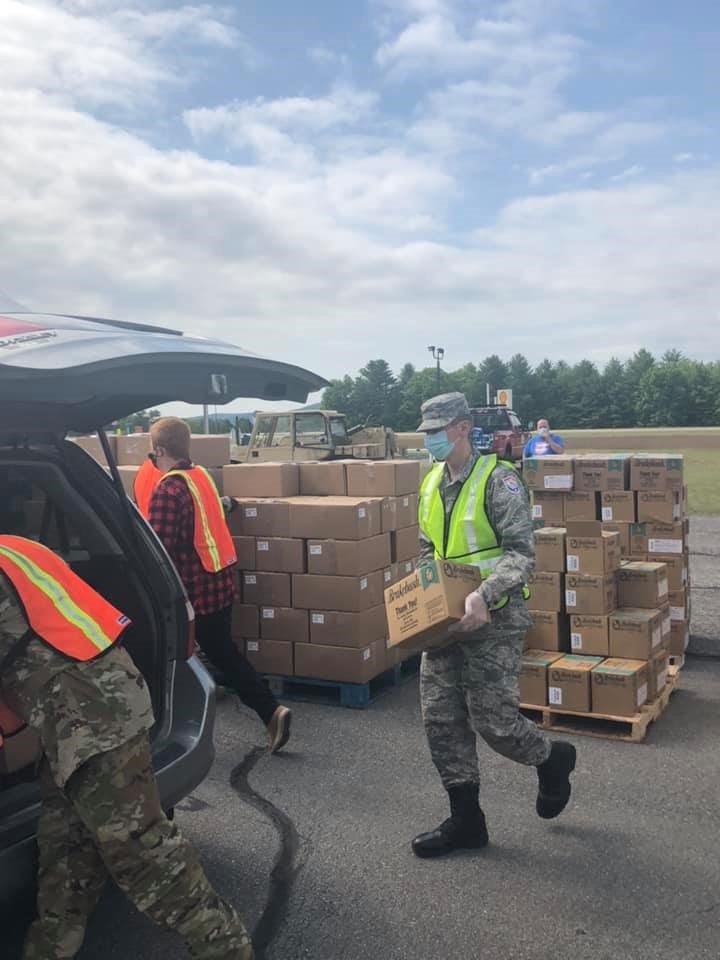 In one day alone, on June 4, the Vermont Wing helped the National Guard deliver 15,000 pounds of food. To date, 36 cadets and senior members from the wing have participated in nine food distribution events statewide, assisting the Guard with giving out 403,800 MREs (Meals Ready to Eat) and about 26,000 pounds of food.
Nationwide over the past three months, volunteers with Civil Air Patrol have served more than three million meals, loaded hundreds of thousands of pounds of food at distribution centers and provided numerous other humanitarian services. Collectively, CAP members nationwide have already contributed over 10,000 volunteer days of service.
As a Total Force partner and the Air Force auxiliary, Civil Air Patrol is aligned with First Air Force to rapidly respond to non-military threats domestically. In this situation members worked as a component of the U.S. Air Force in a Defense Support of Civil Authorities capacity.
Vermont Wing squadrons are located in South Burlington, Barre/Montpelier, Rutland, Bennington and Springfield. The wing provides search and rescue and disaster relief missions, and other support, for many local, state and federal agencies — like the Federal Emergency Management Agency, Vermont State Police, Vermont Air National Guard, and others — by providing incident awareness assessment, airborne photography of large areas of the Northeast United States, urgent VIP transport, delivery of emergency medical supplies, and many other missions.
Visit www.vtcap.org for additional information.