Mead & Hunt, a national architecture-engineering consulting firm, is opening its third Florida office in Tampa.
"We've been looking for the right opportunity to establish an aviation office in the Southeast, and Tampa was my first choice," said Ron Engel (Pictured above), Vice President and Group Leader of Mead & Hunt Aviation Services. "With 20 airports within just an hour, a skilled and available workforce, and great business community – Tampa was where we needed to be."
Mead & Hunt established a water-wastewater and infrastructure services office in Port Orange in August 2017. Then in April 2018 the firm established a highway and bridge services office in Tallahassee. Mead & Hunt provides clients with expert planning, architecture design, engineering, environmental and construction administration services throughout the nation.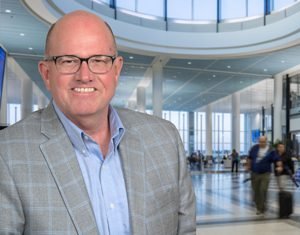 "Florida's history in aviation and state support of airport development meant that our team was primed and ready to be there," said Engel. He continued that Mead & Hunt has been active in airport development since the 1940s, serving a national audience with a local perspective. Mead & Hunt is currently ranked as the 14th largest aviation consulting firm in Engineering News Record's "Top 25 in Airports" list.
Todd Knuckey and Dave Schmidgall will be leading the Tampa aviation team. Pulling from both local and national resources, the Tampa team will provide aviation expertise in engineering, planning, architecture, environmental planning, air service development and program management. Mead & Hunt also offers specialty aviation services such as business and financial consulting, sustainability planning, noise studies, wildlife hazard management and navigational aids design.
The employee-owned consulting firm remains strong on ENR's Top 500 design firm list with a national ranking of 141st in 2017. Mead & Hunt was named by CE News as one of the top 10 engineering companies to work for in the nation. The firm employs 650+ civil, structural, mechanical and electrical engineers, planners, historic preservationists, environmental scientists, architects, technicians and support specialists from 30+ offices located across the nation.