Denver International Airport (DEN) has announced that it will be holding its annual surplus airport equipment sale on Wednesday, August 16, 2017. Over 25 pieces of airport-specific equipment will be offered at this year's sale, including front-end loaders, fuel trucks, runway brooms, and runway pavement friction testers.
The DEN surplus airport equipment sale is open to the owners or sponsors of eligible Colorado public-use airports. Equipment purchased through the Colorado Surplus Airport Equipment Program must be exclusively used on the airport for a minimum of two years.
The Colorado Aeronautical Board recently approved the allocation of $250,000 from the Colorado Aviation Fund to be applied toward matching grants for equipment purchased at the upcoming sale. Each Colorado airport owner/sponsor is eligible for an 80% matching grant on their first pick, and 50% grants for their second and third picks.
The Colorado Division of Aeronautics has partnered with Denver International Airport since 2005 with the coordination and administration of the annual surplus airport equipment sale. The DEN surplus airport equipment sale gives Colorado airports the opportunity to purchase the equipment needed to maintain the safety and efficiency of their airports at prices their budgets can handle.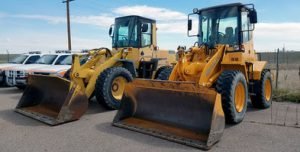 "The Colorado Airport Surplus Equipment Program is essential to the operation of our airport. We just can't afford new equipment," said Meadow Lake Airport (FLY) Airport Manager, David Elliot.
This vital program also benefits the entire Colorado Airport System by freeing up dollars from the Colorado Aviation Fund to be used for other important maintenance and capital improvement projects at Colorado airports.
The Division of Aeronautics is working toward expanding the Colorado Surplus Airport Equipment Sale by including other Colorado airports that are looking to sell their unwanted airport-specific equipment.
The owners and sponsors of Colorado public-use airports who have airport equipment they would like to offer to another Colorado airport are encouraged to contact Kaitlyn Westendorf at kaitlyn.westendorf@state.co.us or call 303-512-5258.