By Penny Rafferty Hamilton, Ph.D.
As an aviation writer, participating in the celebration of the 50th anniversary of the founding of the Colorado Aviation Hall of Fame is an incredible opportunity to breath in so many stories about aviation history.
The Governor proclaimed October 12, 2019 as "Colorado Aviation 50th Annual Hall of Fame Day." The inductions of new laureates, Gregory Anderson, John Bond, Peter Paul Luce, and Gary Tobey, along with a posthumous Special Recognition of Colorado native, Frederick Renshaw Vance, who volunteered for the Royal Canadian Air Force (RCAF) prior to the US Entry into WWII. Vance flew in three different theaters of war for the RCAF. All these luminaries provided a wide spectrum of Colorado aviation history over the years.
Combine that recognition with the large number of past Laureates attending, the Lakewood County Club was the setting for a stellar "Who's Who" in aviation history. Tuskegee Airman, Colonel Hames Harvey, along with the participation of other living WWII service members, added to the special historic significance of the celebration.
A reprint of the history of the Colorado Aviation Historical Society written by the late Jack Wilhite and Dody Engel, provides a small glimpse of the dedicated band of aviation heritage founders in 1966 to today. The aviation world in 1966 saw the introduction of the USAF SR-71 Blackbird and the Gemini space missions and lunar orbiters. Americans enjoyed the new television series, Star Trek, with the intrepid Captain Kirk and his USS Star Ship Enterprise crew, especially Communications Officer, Lt Uhura.
As the Colorado Aviation Historical Society built a strong foundation for aviation history, by 1969 the Aviation Hall of Fame was founded with an original Laureate class of ten: Ivy Baldwin, Allen F. Bonnalie, Albert E. Humphreys, Ira Boyd Humphreys, Will D. "Billy" Parker, Chriss J. Peterson, Reginald Sinclaire, George W. Thompson, Frank A. Van Dersarl, and Jerry Cox Vasconcells.
Fast forward 50 years and the tradition continues of honoring Colorado Aviation game-changers. U.S. Air Force Academy graduate (1972), Gregory J. Anderson, has garnered many aviation accolades over the years. He earned the Phillips 66 Aviation Leadership Award, Living Legends of Aviation Harris Ford Aviation Legacy Award. He served as Wings over the Rockies Air and Space Museum CEO at Lowry and the new Exploration of Flight campus on Centennial Airport.
Another Laureate, WWII Army Air Corps John R. Bond, who also contributed to preserving and promoting Lowry AFB history with the publication of Colorado Aviation History: Lowry Air Force Base, and Legends of Flight: Lowry Heritage. Bond also played a large role in cataloging and organizing a huge archive of Lowry AFB History.
The late Peter Paul Luce, private pilot and aviation history benefactor, was involved in many facets of aviation. He personally flew medical mercy missions for AirLifeLine, ALIE Foundation, and Angel Flight. Peter Paul was a very active board member and officer of the Colorado Aviation Historical Society and Wings Over the Rockies Air & Space Museum. He also was a Living Legends of Aviation Harrison Ford Aviation Legacy Award winner.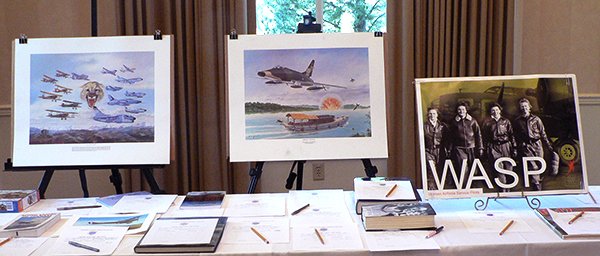 Vietnam-era fighter pilot, Gary H. Tobey, continued to contribute his many talents after his military service. He is active in the Civil Air Patrol (CAP), serving as Colorado Wing Commander. As early as 1996, he co-founded the Colorado CAP Foundation, to provide scholarships for cadets aspiring to be pilots. As a volunteer, Tobey, was extremely effective in representing General Aviation views before the Legislature. He also served on the Arapahoe County Airport Authority.
Another outstanding Coloradan honored was Durango native, Fred Vance. Born on January 19th, 1918, at the age of 22 in November 1940, Vance volunteered for flight training with the Royal Canadian Air Force, to fight the Nazi invaders. Fred Vance flew many missions. In the Mediterranean Theater, his last flight was July 13, 1943, over Sicily in support of the British 8th Army lead by General Montgomery. We was officially listed as "Missing and Presumed Dead," the very next day.
America owes a large debt to all of our aviation pioneers. Special annual events as the Colorado Aviation Historical Society Hall of Fame Celebration gives us an opportunity to do that. "Thank you to them and the other aviation pioneers."