The Colorado Department of Transportation's (CDOT) Division of Aeronautics has announced the results of the 2020 Colorado Aviation Economic Impact Study. The 2020 study revealed that the economic contribution of public-use airports in Colorado has increased 30 percent from 2013 to 2018.
The 2020 study identified the annual economic impact of 70 Colorado public-use airports in terms of the number of jobs supported, payroll, value-added, and total business revenues. The results of the study found that Colorado's public-use airports are responsible for supporting a total of $48.6 billion in business revenues, 345,661 jobs, $16.2 billion in payroll, and $27 billion in value-added.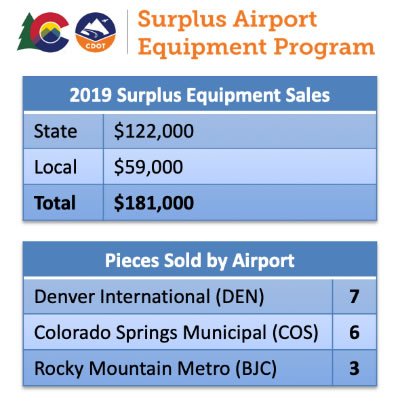 Airports in Colorado are responsible for generating billions of dollars in economic benefit and supporting hundreds of thousands of jobs. Colorado's diverse system of airports helps to sustain, lead, and diversify the State's economy.
"The increased economic impact of airports in Colorado underscores the importance and value of aviation statewide," said CDOT Aeronautics Director David Ulane. "Under the direction of the Colorado Aeronautical Board, the Division of Aeronautics is proud to support Colorado's airports and our aviation system as part of our state's robust multimodal transportation network."
The full Colorado Aviation Economic Impact Study will be released in April 2020. A Technical Memo detailing the study's methodology can be found here. The economic impact data for each airport sampled in the study can be found here.
For additional information, you can visit the project website at ColoradoAviationSystem.com.