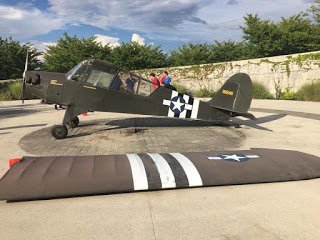 With the 75th anniversary of the invasion of Normandy approaching, students and faculty from the aeronautics program at Liberty University have been working to restore a 1940s Aeronca L-3 "Grasshopper" plane for the National D-Day Memorial in Bedford that will be on display June 6th.
For several years, New London Airport founder and World War II veteran Rucker Tibbs would clean the aircraft and prepare it to be displayed near the reflection pool at the memorial. After Tibbs' death in 2015, Bob Howell, chairman of Liberty University's aviation maintenance technician school and his students stepped in.
Liberty aeronautics student Matthew Moyer said working on the L-3 will help him in the general aviation field after he graduates. "It's pretty practical experience," Moyer said. "And it's nice to work on something that will be on display. I wanted to play a part in getting that plane ready for D-Day."
The students will learn about the history of the airplane as well as hone their skills in aircraft maintenance. The goal of this project is to keep the authenticity of the airplane during the restoration, but there will be a small change to paint scheme.
"The only thing we are going to do differently when we do the paint is put the invasion stripes on it to match it with the Normandy invasion," Howell said.
The plane was donated by Morton Lester and has been on display at the National D-Day Memorial for about 12 years. This aircraft is very rare as it is one of only 19 surviving L-3 Grasshoppers, according to the Federal Aviation Administration's aircraft registry.
The National D-Day Memorial Foundation is very grateful to have the Liberty University's support with this project and the students are very excited to be a part of the restoration. Everyone looks forward to seeing the finished project on display this year.