Much of the aviation industry in North Carolina is upbeat about the prospects of 2022 being a good year. That message is being heard from airport officials across the state, state and county governments and even aerial applicators.
"The future looks bright for the 72 public use airports in the State of North Carolina," said Mark R. Davidson, A.A.E., Airport Director, Smith Reynolds Airport, in Winston-Salem and President of the North Carolina Airports Association (NCAA). "Air traffic at a number of airports has increased over the previous year and new funding sources have come available including over $126 million in the State budget for 18 individual airports."
Despite the negative impacts of COVID 19, a number of airports have thrived since 2020 including Smith Reynolds. "Our airport is busting at the seams and all hangars are leased out," said Davidson. "For this reason and many others including job growth, Forsyth County is committed to building new corporate and maintenance, repair and overhaul (MRO) hangars, as well as facilities to promote start-ups." The County is also committed to the future of aviation by supporting advanced air mobility. "Innovative ways to move people and cargo in the urban area of Winston-Salem is just one of the reasons the future is bright in North Carolina," said Davidson.
Dan Danieley, Executive Director, Burlington-Alamance Airport Authority and an NCAA At-Large Director, agrees. "The Burlington Alamance Regional Airport continues to experience an increase in flight operations and growth. We anticipate 2022 to be an even greater year for our airport and community."
You can include Raleigh Regional Airport in that assessment. Sherry Wilborn, CEcD, Economic Development Director for Person County noted that during COVID, the Raleigh Regional Airport at Person County saw an uptick in cargo support for regional industry as well as air traffic for smaller, private and charter planes. "We expect to see both continue into 2022, and with 24/7 fueling, loading, and transport capabilities, we are well-equipped to support the needs." Another area of expected growth that they are preparing for is the need for corporate hangar space with all the industrial expansion projects taking place in the Triangle and Piedmont Triad. "Our 15,000-sf corporate hangar is expected to be complete in the Spring of 2022, with plans to further extend the 6,005' runway funded and soon to follow."
In Eastern North Carolina, the recovery has picked up steam and some airports, including the Albert J. Ellis Airport (OAJ) near Jacksonville, even set records during peak months in 2021. "As we enter 2022 OAJ, along with many other airports across North Carolina, has picked up a significant tailwind," said Chris White, A.A.E., Airport Director and past president of NCAA. "Between recent investments made by the State of North Carolina, the Infrastructure Investment and Jobs Act, AIP, the Cares Act and others its shaping up to be a busy few years as airports undertake and resume many necessary projects." Moving ahead this year, White says it appears that the biggest challenges will be capacity and human capital related. "Whether its technicians, engineers or pilots our industry must find ways to invest more into developing the diverse workforce needed to secure the future of aviation."
Even the larger airports in the state are hopeful. Michael Landguth, president & CEO, Raleigh-Durham Airport Authority says RDU is entering 2022 with a sense of optimism and the expectation that it will be a year of continued recovery and growth. "We experienced robust growth in 2021, signaling that the recovery is already underway." While RDU's leisure market grew steadily last year, business travel is still lagging behind. RDU had an even split of business and leisure travel before the pandemic, but, according to Landguth, today the airport is heavily weighted toward leisure travel amid pent up demand for visiting family and friends and vacationing, therefore, RDU will focus its efforts this year on regaining the business market that is critical to sustaining passenger traffic outside the busy summer and holiday seasons. Restoring nonstop international travel is also a target area for RDU in 2022. "We announced recently that Icelandair will launch a nonstop flight to Reykjavik in 2022, a market that offers connections to dozens of destinations in the United Kingdom, Continental Europe and Scandinavia," said Landguth. "That new route, along with the expected return of our Paris and London flights, will help provide the global connectivity that is so important to business travelers."
Increasing passenger traffic will also allow RDU to revisit and restart capital projects in 2022 that were identified in its Vision 2040 master plan for growth, including completion of a remain overnight parking area, expansion of the Terminal 2 security checkpoint and improvements to perimeter security. Additional capital projects under consideration include parking expansion and construction of a new rental car storage lot, roadway improvements, commercial development along Aviation Parkway and future capacity-related enhancements to both terminal facilities. "Our most significant undertaking – the replacement of our primary runway – is also on track for 2022," said Landguth. "The FAA has authorized the Airport Authority to move forward with an environmental assessment for replacing 5L/23R, kicking off a multi-year project that could lead to shovels in the ground by the end of the year. In all, we are confident that RDU will grow along with the thriving Research Triangle market this year, with a renewed emphasis on building for the future."
At Coastal Carolina Regional Airport (EWN), Andrew Shorter, C.M., Airport Director, said they are highly optimistic about 2022. On the back side of completing their new Aircraft Rescue and Firefighting facility in November, the airport has ambitious plans to start its 18-month airline terminal expansion and rehabilitation project this year. "In addition to those exciting improvements, we are nearing the mid-point of construction for our new, two-unit corporate hangar project and we already have anxious commercial tenants lined-up and waiting to occupy this new state of the art facility," said Shorter. "You can say that we are hitting on all cylinders because all of these new improvements provide across-the-board transformational changes that will continue to move EWN forward to best serve the aeronautical needs for the growing and thriving coastal communities of Eastern North Carolina."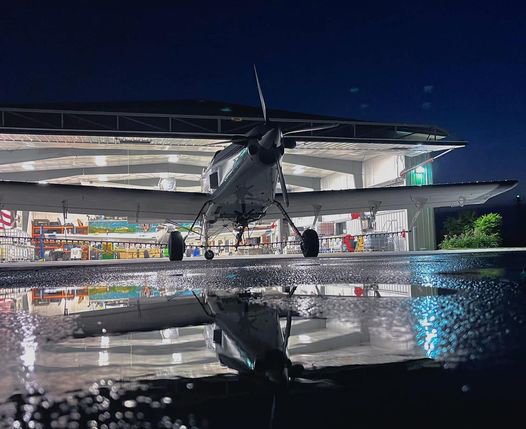 As upbeat as everyone seems, higher costs are having an impact on the industry. The North Carolina aerial application industry is not alone in facing higher product prices and uncertainties, all which could impact the season's activities. "We're on pins and needles," said Mike Rivenbark, owner/operator of Moore's Aerial Applicators in Clinton and Executive Director of the North Carolina Ag Aviation Association. "Costs are high. Fertilizer and insecticide costs are higher this year. A lot could rest on the mindset of farmers."
Rivenbark says Eastern North Carolina has a bad problem with Stink Bugs that are impacting corn production. "If not treated farmers could face a $20 to $30 loss per bushel. Mother Nature also plays a big part in what crops get treated."
Still, Rivenbark thinks it will be a good year. "We'll make the best of it." When will he know for sure if 2022 will be a good year? "Check with me in October!"