Members of the North Carolina Airports Association (NCAA) have elected Chris White, A.A.E. to serve as the association's president for the 2020/2021 fiscal year. White has been the Director of the Albert J. Ellis Airport located in Jacksonville, NC since 2009 and has served in various roles on the NCAA Board of Directors for the past several years. He began his involvement in North Carolina airports in 2001 at RDU and previously worked at TYS, DFW and Little Rock prior to his current post in Onslow County. Mr. White is a pilot and an Accredited Airport Executive.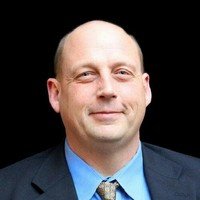 The North Carolina Airports Association was officially formed in 1986 as a professional development and advocacy organization that promotes airports and aviation in North Carolina. The association facilitates professional development opportunities, advocates with legislators on airport related issues, promotes aviation and aviation careers, provides scholarships and works with the NCDOT to advance state programs.
According to an NCDOT/NCSU study in 2018 North Carolina's Airports contributed over $52 billion to the economy while employing over 307,000 people with a payroll of $12.6 billion. These activities generate $2.2 billion annually in state and local tax revenues, thereby reducing some of the tax burden on North Carolina residents. Aviation has grown significantly since the Wright Brothers first took flight in Kitty Hawk 117 years ago and now represents almost 10% of the state's GDP. Aircraft and their parts are also manufactured across the state and North Carolina has the 2nd fastest growing aerospace manufacturing sector in the nation.
White stated "I am honored to serve the association during this crucial time as North Carolina's airports are integral to the economy and serve many aspects of citizen's lives from overnight delivery of products and medical supplies to agriculture and military training. The state's 10 commercial airports shuttle family members, visitors and business associates around and all 72 public airports help local industry thrive in every corner of the state." For additional information about the association visit www.ncairports.org, the economic impact visit https://www.ncdot.gov/divisions/aviation/Pages/state-of-aviation.aspx or the Albert J. Ellis Airport visit www.flyOAJ.com.