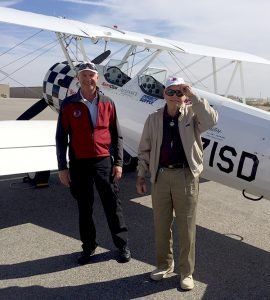 The Ageless Aviation Dream Foundation along with members from the Yuma, Arizona community came together on April 11th for a beautiful ceremony as a show of appreciation of 12 local Veterans for their sacrifice and dedication to our Country and the Yuma community.
"Yuma is honored to have been selected by the Ageless Aviation Dreams Foundation for several years," said Yuma International Airport Director, Gladys Wiggins. "With two long-time active military installations, US Army Yuma Proving Grounds and MCAS Yuma, Yuma has been home to many men and women who have served our great country, and the community is lucky that some decide to stay and call Yuma home."
The Veterans all received a ride on a vintage 1942 Boeing Stearman from the Ageless Aviation Dream Foundation whose mission is to Give Back to Those Who Gave.
Sincere thanks were given to Mike and Lynn Sommers for their dedication to this opportunity. Also thanked were the Yuma County Chamber of Commerce's Military Affairs, Million Air, Sports Clips, Patriot Riders, American Legion Color Guard, Wendy Lobeck McKay, Yuma Barbershop Chorus, City of Yuma Deputy Mayor, Gary Knight and Yuma International Airport Director, Gladys Wiggins for making the event a beautiful memory for Veterans and their families.