Every year I always find myself interested in what presence gaming has at AirVenture. I've seen Wargaming.net showcase World of Tanks and World of Warplanes, PlayStation bring it's 'Road to Greatness Tour', and Forza Motorsport playable year after year at the Ford tent.
Another company I used to pay close attention to was Mad Catz and its Saitek brand of aviation accessories. I would also visit its booth to see what PC sims were playable with their latest equipment. Sadly though, Mad Catz ran into financial trouble and sold off Saitek to Logitech who so far has no interest in participating in AirVenture. This left the door wide open for a successor. Enter Thrustmaster.
Thrustmaster creates joysticks, game controllers, and steering wheels for PC and gaming consoles, and for the first time ever they decided to represent their latest aviation products at the World's Greatest Aviation Celebration. Additionally, they didn't just sneak in the back door, but they showed up in style by being a bronze level sponsor. Hangar B was known as the Thrustmaster hangar in 2018 and they had prime positioning right out front to ensure no one would miss them.
While at AirVenture 2018 I had the opportunity to check out Thrustmaster's booth to play a couple of aviation sims while using two of their new products, the TPR pendular rudder system and T-Flight USAF Edition gaming headset. I also got to speak with Tim Gorham, Marketing Manager for the company. I started out by asking him what Thrustmaster had learned from participating at AirVenture for the first time in its 28-year history and how it compares to a gaming centered conference such as E3.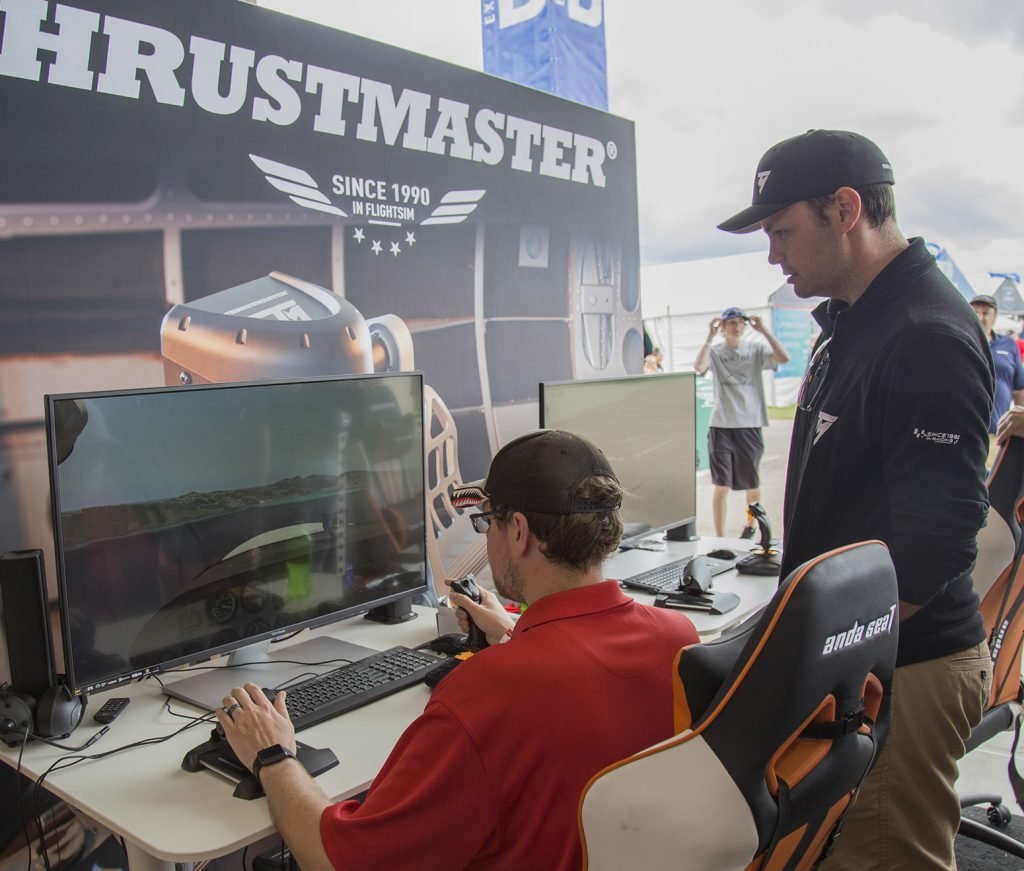 "We learned of the extreme depth of knowledge that the real-world aviation community has about sim gaming." said Gorham. "It shouldn't have come as a surprise to us to find that pilots and aviation enthusiasts have jumped into sim flying as the software and hardware provides such an immersive duplication of the real thing, but that level of knowledge and enthusiasm was amazing and contagious!"
"E3 is a different kind of event where we reach media, partners, and buyers, with some consumer engagement as a bonus. AirVenture is a consumer-first event, and as the consumer marketing manager, I considered it an even bigger success, especially considering the knowledge that this community had. At E3, some gamers and industry vets were left puzzled about our $499 flight rudders, compared to at AirVenture where the attendees immediately understood the product and value – most were actually surprised at how affordable they were!"
I also asked Gorham if there were any early indicators of how successful their presence was at AirVenture based on online sales of their product. He mentioned that numbers through one of its partnerships indicated sales of their flight units jumped by over 500% during the week of AirVenture compared to the previous two weeks. That's simply awesome for any company and probably leads to the question of why Thrustmaster, or any company with flight products, haven't landed sooner in Oshkosh.
So, based on the early success numbers, I was curious to know if Thrustmaster already had plans to return to Oshkosh in 2019 and have perhaps an even bigger presence than 2018. "This year we sync'd our attendance with some new announcements (TPR Rudders and USAF Headset). Depending on what we have to say/promote next year, we will scale our attendance accordingly. If we have even more news, we will definitely go bigger as this year was a great hit!"
I can't imagine Thrustmaster not returning next year. They filled a hole left behind by Saitek and saw some immediate success from their attendance. Plus, being a gamer and flight enthusiast myself, it's nice to have a company in that world attending not only one of the best events in aviation, but one of the best events period.
You can learn more about Thrustmaster and its line of aviation products, including the TPR Rudders and USAF Headset mentioned in the interview, by visiting www.thrustmaster.com.