Since September 2018, FedEx has been testing the live use of drones for aircraft inspection within an airport setting at the Memphis International Airport, a first for airport drone operations in the U.S. The Federal Aviation Administration (FAA) currently prohibits drone use within five miles of any airport, but learnings from this pilot program, in partnership with drone companies such as DJI and Asylon, will be used to inform future FAA policies around drone use at airports.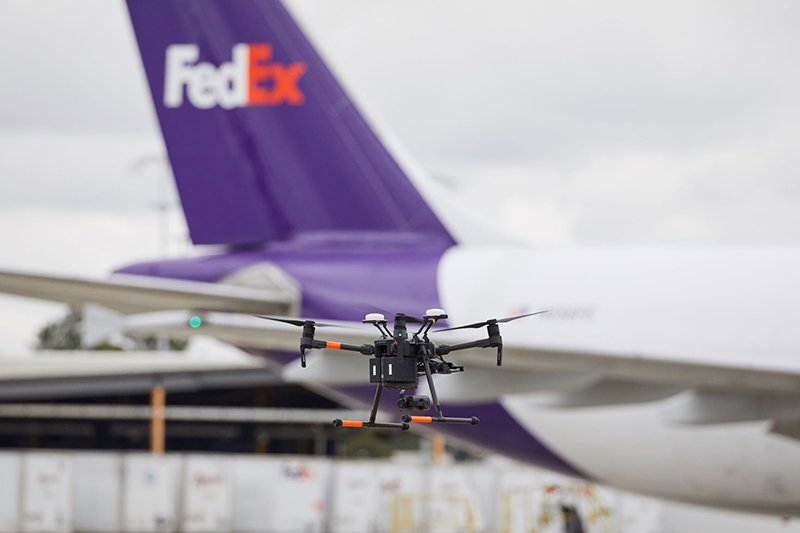 After spending the first year developing flight procedures with the required risk management using FedEx's Safety Risk Management (SMS) process, FedEx began initial operations off-airport in areas of increasing operational complexity, including places such as the Memphis Riverfront Park, Memphis Redbird Ball Park and Liberty Bowl Coliseum. FedEx conducted small unmanned aircraft systems (UAS) pilot and visual observer training during day and night-time operations, developed and evaluated small UAS flight performance on simulated missions, before progressing to the Memphis International Airport to conduct UAS flight tests with three designated areas of increasing operational complexity including isolated on-airport areas (phase 1); active ramp areas isolated from arriving/departing aircraft (phase 2); and lastly, within an active ramp area including in the presence of arriving/departing aircraft (phase 3). Since then, the pilot program in Memphis has expanded to include general visual inspection, security/perimeter surveillance, Foreign Object Debris (FOD) detection and aircraft parts delivery across a fleet of seven drones total.
Given these small UAS were not developed and manufactured according to strict FAA airworthiness standards, FedEx has conducted a significant amount of flight crew training, operational and maintenance data collection, and environmental conditions (i.e., temperature, wind, precipitation, etc.) for safe conduction of drone operations within an airport. This data collection allowed FedEx to identify operational and performance limitations of the various small UAS, which have been accounted for in its operational procedures. As a result, FedEx successfully demonstrated the safe and effective use of drones on airport flight operations, enabling them to expand operations to other FedEx facilities such as Indianapolis, Alliance Ft. Worth, Oakland, Anchorage, and Greensboro in the near future.