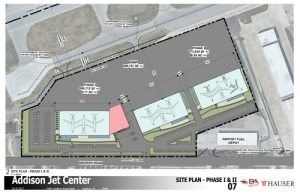 The Business Aviation Group announced that it is now seeking qualified FBO candidates to bid on their proposed 15.5-acre FBO development project.  Addison Jet Center, as it is currently referred to, will be built in two (2) Phases and when complete, it will include 120,000 SF of hangar, office and shop space, 6.9 acres of ramp space and 22,000 SF of Class "A" FBO and office space.
Having executed a ground lease with the Town of Addison, the BA Group is now ready to move forward and identify qualified candidates who possess the expertise, financial strength, and acumen necessary to execute a long-term commitment to this first-class facility.
"The initial response we received when we first announced plans for this new state-of-the-art project was overwhelming, and now we are excited to be moving to the next step this week in the FBO selection process," commented Iver Retrum, co-founder, and partner of BA Group. "This is the largest development project ever initiated at Addison airport and it comes at a time when hangar space is at capacity and the nearby northern corridor of the Dallas Metroplex is exploding with growth, which is sure to fuel further growth for this airport for years to come," added Retrum.
The BA Group's new development will be in the southeast quadrant of Addison Airport (KADS), adjacent to the notable Addison Circle Park. The desirable location is conveniently accessible to the downtown district and is planned to be developed in two phases.  Phase I will consist of 11-acres and is designed to likely include (2) 40,000-SF of corporate aircraft hangars with accompanying office and shop space. A well-appointed 22,000-SF two-story FBO terminal building will be the focal point of the development and will serve as the operational center of the campus.  To handle today's ultra-long range, large cabin business jets, a 4.6-acre ramp has been incorporated in Phase I that will ensure safe and efficient aircraft ramp movements. As initially conceptualized, the FBO terminal also includes a roof-top observation deck and office suites.  An exciting feature of the development will be indoor secured auto parking with lifts and valet and auto spa services for discerning clients.
Phase II of the development will increase capacity with an additional 40,000-SF hangar and 4,800-SF of office and shop space to accommodate the growing corporate flight operations in the region.  Adding a 2.3-acre ramp in Phase II will bring the total campus to 6.9-acres, which is more than twice the size of the current FBOs' combined contiguous front ramp space.
"David Vaughan, co-owner, and partner of the BA Group stated, "Addison Airport is poised to support the current demand for larger business jets in this region and this unique world-class facility is just what we need to bring it to fruition. The FBO will be like no other and have a mix of the area's warm hospitality coupled with exemplary service and amenities for its local and transient clients."
Further conceptual illustrations and site plan can be found at: Addison Redevelopment Project
The BA Group partnered with Denver-based McClurg Century Investments (MCI) for this Addison Airport redevelopment project. MCI has substantial real estate experience and recently completed AeroColorado, a 55,000-sq. ft. first class private hangar and office complex at Centennial Airport in Denver, Colorado.  The Addison development represents the first of many projects to come.