Photo above – Association President Terry Connorton, speaks with an exhibitor at the SCAA Annual Conference.
South Carolina Aviation Association (SCAA) held its Annual Conference at the Sonesta Resort in Hilton Head Island on Feb. 24 – 26, 2021. Virtually and in-person, this event brought together individuals from the state's airport system, aviation industry representatives, the South Carolina Aeronautics Commission, National Association of State Aviation Officials (NASAO) and the Federal Aviation Administration (FAA).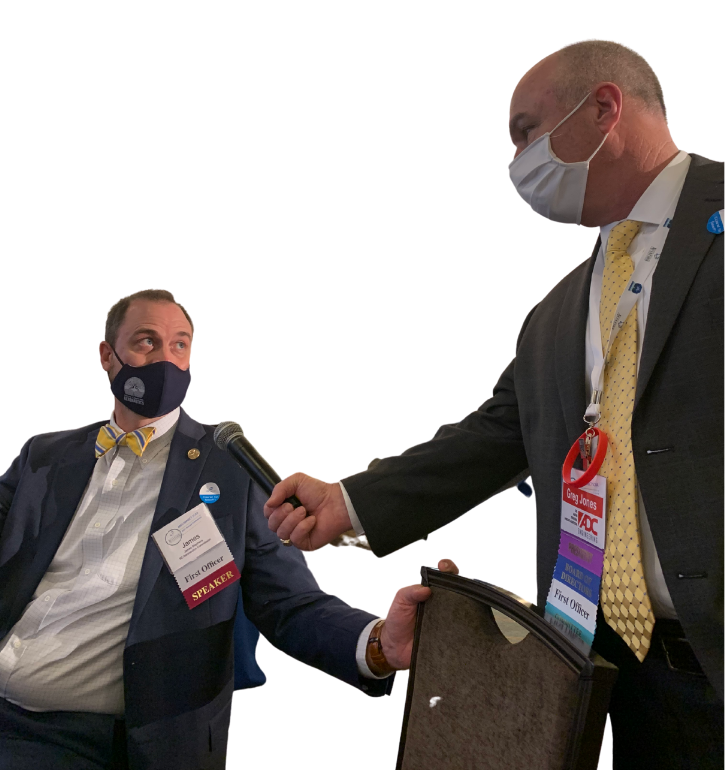 The event began with a golf outing in support of the SCAA Scholarship Fund and an outdoor welcome reception sponsored by Michael Baker International and Titan Aviation Fuels on Feb. 24.
Virtual content was streamed live on Thursday, Feb. 25 courtesy of Pace Pavement, and Greenville-Spartanburg International Airport sponsored on-site health and safety measures. After a grab-and-go breakfast sponsored by Delta Airport Consultants, emcee Greg Jones, Vice President of Civil and Aviation Engineer at ADC Engineering and 2019-2021 SCAA President, welcomed all participants to the conference.
Content began with reports from South Carolina Aeronautics Commission Executive Director James Stephens, FAA Southern Region Administrator Michael O'Harra, FAA Southern Region Director of the Office of Airports Steven Hicks, FAA Southern Region ADO Manager Larry Clark and NASAO President and CEO Greg Pecoraro.
Following the state, regional and federal updates, Justin Robinson, vice president of CrossFlight Sky Solutions and FAA Drone Pro, decoded the future of drones. During a working lunch sponsored by WK Dickson, Jim Campbell, bridge consultant with Contech Engineered Solutions, provided a case study on civil and site solutions for the aviation industry.
Afternoon speakers included Beaufort County Airports Director Jon Rembold, who detailed Hilton Head Island Airport's master plan that led to the islands first-ever commercial jet service; South Carolina Aeronautics Commission Program Manager Gary Siegfried, who provided program updates and information on airport responsibilities for monitoring land use around airports; Horry County Department of Airports Contract and Procurement Administrator April Johnston, who detailed the construction contract process from start to finish; and McFarland Johnson Project Manager Jennifer Zorn, who outlined best practices for detoxing public engagement.
Throughout the day, participating sponsors and exhibitors were invited to deliver a brief live advertisement or pre-recorded video, providing an overview of products and services available to attendees. Additionally, ADC Engineering provided entertaining giveaways with cornhole-inspired head-to-head competition.
The Hall of Fame Banquet, sponsored by engineering firm Talbert & Bright, saw the induction of two individuals into the S.C. Aviation Hall of Fame, which celebrates its 30th anniversary this year. To be considered for the Hall of Fame, nominees must make a substantial contribution to aviation, performed with a high degree of excellence, above and beyond the nominee's vocation or political position.
William "Bill" Kendall was selected for his dedication to building from the ground up Greenville Technical College's FAA Part 147 Aircraft Maintenance Technology program. Kendall served the program as recruiter, instructor, department head, lab assistant, and FAA Designated Maintenance Examiner (DME). In 36 years as a DME, Kendall has administered more than 1,400 oral and practical exams, certifying more than 900 technicians, including most of the college's current Aircraft Maintenance Technology faculty. Major General Darwin Simpson, US Army (Retired), was selected for his work at Spartanburg Downtown Memorial Airport.
After retiring from military leadership and a career as a chemical company executive, Simpson served as airport director on a voluntary basis from February 2009 through September 2017, drawing a salary of $1 per year. Simpson oversaw an extensive revitalization of many of the airport's facilities, including renovation and expansion of the airport terminal and runway improvements and extension.
The Hall of Fame Banquet was followed by an outdoor hospitality suite hosted by Holt Consulting Company.
On Friday, Feb. 26, Spartanburg Downtown Memorial Airport Director Terry Connorton provided an aviation safety update, including an in-depth look at FOD sweeping equipment. Greenville-Spartanburg International Airport Senior Vice President and COO Kevin Howell delivered a session on land development planning alongside Columbia Metropolitan Airport Director of Planning and Facilities Frank Murray. FAA Safety Team (FAASTeam) Program Managers Lanny Cline and James Dangerfield presented the 2020 SC FSDO GA Awards to Charles J. "Chuck" Copley, III (Certified Flight Instructor of the Year); Scott G. Newsome (FAASTeam Representative of the Year); and John L. "Chuck" Hyer" (Aviation Maintenance Technician of the Year).
To close the conference, Jones announced the 2021 – 2022 SCAA Executive Committee comprised of Connorton as president, Howell as vice president, Holt Consulting Company's Ryan Hounshell as secretary/treasurer and Jones as immediate past president. Jones welcomed newly elected directors Andy Busbee of Michael Baker International, Barbara Clark of Jasper County Council, Katie Eleam of Croy Engineering, and Zach Nelson of McFarland Johnson.
In-person and virtual attendees can access the session recordings and conference documents until February 2022, and interested parties may register on SCAA's website, scaaonline.com, to access the same information. The association plans to host its next Annual Conference in Myrtle Beach, S.C., Feb. 16-18, 2022.
SCAA actively promotes and encourages aviation and airport development to meet air transportation needs and assist the state in achieving economic development goals. Its membership is comprised of airports and aviators across South Carolina, as well as aviation industry partners.