The Oklahoma Aeronautics Commission has announced Kelly Fincannon as the agency's Chief Airport Engineer. His focus is on airport planning, design, construction, and project management with a mission to provide continued development and improvement of the Oklahoma Airport System, working closely with the Federal Aviation Administration, airports, consultants, and construction contractors.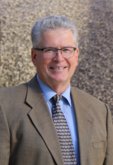 Kelly earned an MS and BS in Civil Engineering from Oklahoma State University. He is a member of the American Society of Civil Engineers, and the Oklahoma Airport Operators Association.
His 38 years of related work experience includes office management, staff management, regional financial oversight, business development, client negotiation, project management, engineering design, bidding services, construction administration, construction observation, grant administration, master planning, and capital improvement plans. His airport experience spans civil, military, commercial, and general aviation airports as well as other civil infrastructure projects including highways, streets, drainage, water lines, sewer lines, and water resources projects. He holds professional registrations in Oklahoma, Kansas, Texas, Arkansas, and Missouri.