Photo above – Michael Reisman, Moderator (left) engages panelists, from left, Annie Russo, Bridget Cox and Michael Landguth. Photos by Kim Stevens.
The North Carolina Airports Association held its annual conference last week in Pinehurst, NC, attracting some 400 attendees and 40 exhibitors from throughout the state and region. Although some chose to participate through video conferencing, the majority attended in person to celebrate the 41st Annual Conference.
The conference began on Tuesday with its popular golf tournament and opening reception, with general sessions taking place on both the 11th and 12th. The theme for this year's conference was "The Business of Aviation" and focused on building strong financial and operational foundations, surviving disasters/pandemics and positioning for the future.
Sessions were designed to provide practitioners throughout the industry with additional tools to help strengthen the financial and operational components of North Carolina's system of airports. Much like building a terminal; solid financials are the cornerstone of a successful airport, and the goal is for all participants to take new and innovative ideas and practices back and be better prepared to weather the storm or cease the opportunity.
A panel discussion on "Navigating a Pandemic" was held Wednesday (See photo above) with panelist, Annie Russo, Senior VP, Government & Political Affairs, Airports Council International North America, Bridget Cox, Area General Manager Signature Flight Support, and Michael Landguth, A.A.E., President & CEO, Raleigh-Durham International Airport. The moderator for the session was Michael Reisman, Greater Asheville Regional Airport Authority.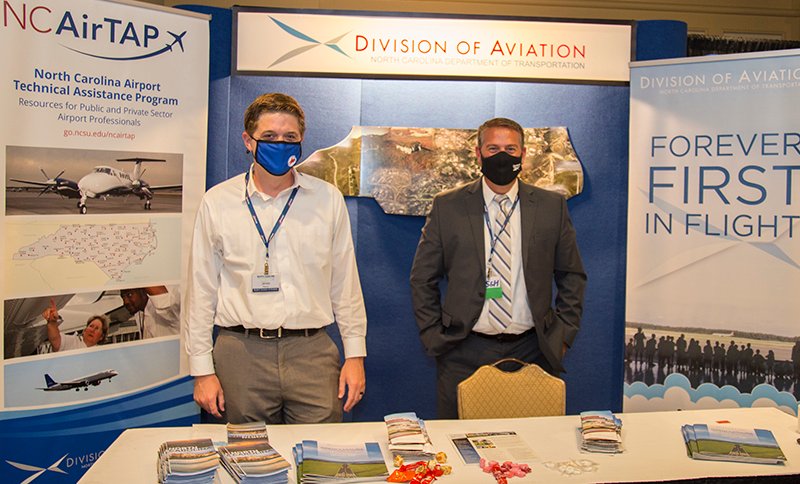 Panelists discussed what lessons were learned from the crisis and how airports can attempt to prepare, survive, and recover from future emergencies. The session also touched on operational impacts to airports.
The conference is hosted each year by cities throughout the state and is attended by airport commissioners, executives and staff, as well as professionals serving the industry through engineering, consulting, products and more. Each year's conference is supported by sponsors, exhibitors and advertisers and each of these contributors have an opportunity to present themselves to the Association through various events and exhibits.