By Scotty Malta
The beautiful Pinehurst Resort in Pinehurst, NC was the venue of the 2023 annual North Carolina Airports Association (NCAA) Conference. The sold-out event with 473 delegates, 41 exhibitors, and 56 sponsors was themed "Airports – Leading the Way in Economic Development". The conference committee, led by Conference Chair Edwin (Eddie) H. Madden, Jr., Columbus County Manager and NCAA Vice President, did an excellent job of providing a variety of interesting, appropriate, and timely topics and speakers to fill two informative and interactive days.
NCAA Business Manager, Lisa Edwards and her conference staff did an awesome job (as usual) in seeing to everyone's needs and keeping the agenda activities on track. Anyone that has ever attended or better, been part of a conference committee knows how difficult a task Lisa and her team had, yet, as an attendee, you only see their style and grace as they interact with attendees.
The conference was appropriately started by the singing of the National Anthem by the Pinecrest High School Choir and accompanied by an Honor Guard of Civil Air Patrol cadets from Moore County Composite Squadron, Group 5, North Carolina Wing.
The first session was a motivational session presented by Scott Burrows, a man who was severely injured in a car accident at 19 and was told he would never walk again. Through Vision, Mission, and Grit, not only can he stand and walk but he's active in Special Olympics, golfing and snow skiing among other activities. Among his many comments, he left the attendees with two thoughts: "Be willing to fail, but not willing to quit." And "Never give up being a student of your craft."
During the Awards Banquet Space Shuttle Astronaut Colonel Curtis L. Brown, Jr. spoke with us about his various experiences in the program. He flew on six shuttle missions: STS-47, STS-66, STS-77, STS-85, STS-95, and STS-103. He was entertaining and informative and a real pleasure to listen to. Colonel Brown left the attendees with three things to consider: 1) "If you are not having fun at what you are doing, you are doing something wrong," 2) Anything worth doing is worth overdoing," and 3) The sooner you get behind, the quicker you can catch up."
As its name implies, the awards banquet culminated in multiple awards being presented, including:
The NCAA President's Award was presented to Dr. Daniel Findley of N.C. State University. Dr. Findley's accomplishments, services and products to North Carolina aviation/airports are extensive. In brief, here is the inscription on the plaque he was presented, with the state of North Carolina formed by the identifiers of all 72 airports – "The 2023 President's Award is presented to Dr. Daniel Findley, a true thought leader for North Carolina aviation, whose invaluable insights, research, data and analysis have helped catalyze innovation across our airport system and promote our airports' significant impacts to the communities they serve."
The Willard G. Plentl Jr. – Airport Professional of the Year Award was presented to Ron Maness, Airport Director of the Moore County Airport. Ron's aviation background spans six decades from Air Force F-106s to F-4s to flying T-38s as the Thunderbirds #2 then on to US Airways flying DC-9s, MD-80s, Boeing 727s, F-28s & F-100s and finally A-320s. His mantra has been, "Just fly the plane." In 2004 Ron began the first of four periods as the Moore County Airport Manager/Director. Mike Jones, the Chairman of the Moore County Airport Authority stated, "For someone who has been in the 'flying business' for over 60 years, this award certainly seems appropriate. Ron Maness embodies both the spirit and industry of aviation for which the Willard G. Plentl, Jr. Award is intended."
Bobby Walston, Aviation Director, North Carolina Department of Transportation, Division of Aviation, was given special recognition and a Retirement Award, a beautiful model of the Wright Flyer. Bobby will soon be retiring after 30+ years of dedication and service to the State of North Carolina and North Carolina's 72 airports. Due to his unwavering commitment and far-reaching impact, North Carolina is positioned to be "Forever First in Flight." It's impossible to overstate how valuable Bobby has been to the NCAA.
NCAA also presented scholarships to Madelyn Knowles, Sara Watkins and Keven Watson, recognizing them as part of the future of aviation.
Madelyn Knowles is a junior at Elizabeth City State University pursuing an Aviation Science degree with a focus in Aviation Management and Flight Education. Madelyn is a certified FAA Private Pilot and is currently working on her instrument rating. She currently works at the Elizabeth City Regional Airport in a front desk and lineman position. Madelyn's goal after graduation is to pursue a career in military aviation and, preferably, to fly a rotor wing aircraft.
Sara Watkins is a Civil Engineering student attending North Carolina State University. Sara currently holds a 3.5 GPA and is an Engineering Ambassador for the NCSU College of Engineering serving in many leadership capacities. Sarah has a dream to land a civil engineering airport position.
Keven Watson is a junior attending Asheville-Buncombe Technical Community College pursuing an Aviation Management degree as well as a Career Pilot Degree. Now a Private First Class in the Army National Guard, he is a Powerplant Repairer specializing in propulsion systems for Blackhawk, Apache, and Chinook helicopters. Keven holds a private pilot license and is currently working towards his instrument certificate. Keven's expectations for his future in the field of transportation is to become an airline pilot and, if possible, fly in the military.
This conference marked a transition period for the NCAA as Lisa Edwards was working with Emily Winberg who will replace her as Business Manager next year.
Lisa has been the Business Manager for NCAA for 15 years. Speaking with directors and officers of the association you hear things about Lisa such as: "You can't say enough about Lisa", "She's the glue that holds the board together year after year," "Everything she touches gets bigger and better year after year," "Lisa has the association running like a machine," "She's tenacious in bringing in sponsors and exhibitors," "She will be truly missed."
When Lisa began with NCAA in 2007, the conference had approximately 225 attendees and 17 exhibitors compared to this year's sell-out with 473 attendees and 56 exhibitors.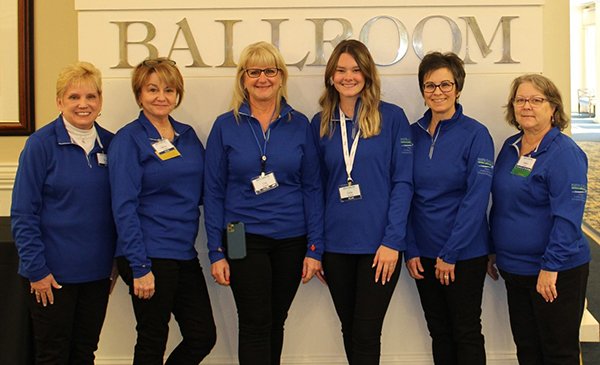 Lisa will train Emily and continue full time until July 1st. She will then work part-time until the conference in April 2024 at Ashville, which is very fitting as it was at the Asheville conference 15 years ago when she started with NCAA.
Winberg is a graduate of UNC Wilmington with a major in Communication Studies and a minor in Journalism. She is pursuing a Master's Degree in Integrated Marketing Communication (IMC) at UNC Wilmington and will be moving to Charlotte, NC in May.
Growing up in Winston-Salem and around Smith Reynolds Airport, Emily has been around aviation all her life. Her parents met in aviation and her stepfather is an airport executive director, all of whom encouraged her to apply for the position of NCAA Business Manager.
————————————————
Scotty Malta AAE, CAE, Capt. USAF (Ret.) is an aviation consultant with Airport Management Consulting Group (AMCG) and a frequent contributor to State Aviation Journal.