The Michigan Department of Transportation (MDOT) Office of Aeronautics has recognized the Sawyer International Airport located in Marquette, Michigan as the recipient of the Airport of the Year Award Air Carrier Airport Category. This is an annual award to recognize outstanding service to Michigan Aviation.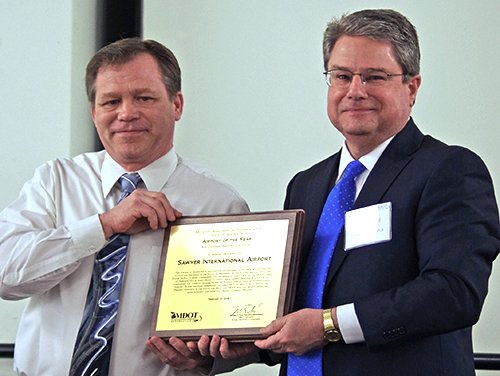 The award is presented in recognition of sustained excellence in contribution to aviation progress in the State of Michigan. In particular, Airport Manager Duane DuRay was commended for his generous assistance to the MDOT Office of Aeronautics in their grant closeout improvement process. In addition to overseeing the complex rehabilitation of runway 1/19 at Sawyer International Airport, DuRay provided significant valuable input to MDOT. As a result, the Primary airports in the state, the FAA, and MDOT will all benefit from the more efficient and effective grant closeout process.
The award was presented by Mark Noel, Manager MDOT Office of Aeronautics Planning and Development Section to DuRay at the 2019 Michigan Airport Conference on February 21 held at the Kellogg Conference Center in East Lansing, Michigan.
In addition, DuRay received a service award in recognition of outstanding contributions to airport development and aviation progress in the State of Michigan for his contributions to the improvement of the grant closeout process.
DuRay also received the Airport Manager of the Year in September, 2018 at the Michigan Association of Airport Executives (MAAE) Fall Conference. See the State Aviation Journal 2018 Fall Conference issue for more information.
There are 18 commercial airports in Michigan identified in MDOT air carrier data reporting with scheduled passenger enplanements.
The Airport of the Year awards are based on accomplishments in the areas of community relations, airport management, airport maintenance activities, and innovative activities and programs implemented at airports.