Nearly 100 women attended the Third Annual Women's Aviation Career Symposium (WACS) held on January 25th, 2020 at the Capital Region International Airport. This symposium, hosted by Jackson National Life Insurance, was the 2019 Michigan Aeronautics Commission Award of Excellence winner and was organized by co-founders Helen Hagg, Mary Poirier, and Pam Tobin. The symposium showcased the many different career pathways and STEM fields that aviation offers and awarded $7500 in scholarships for aviation education.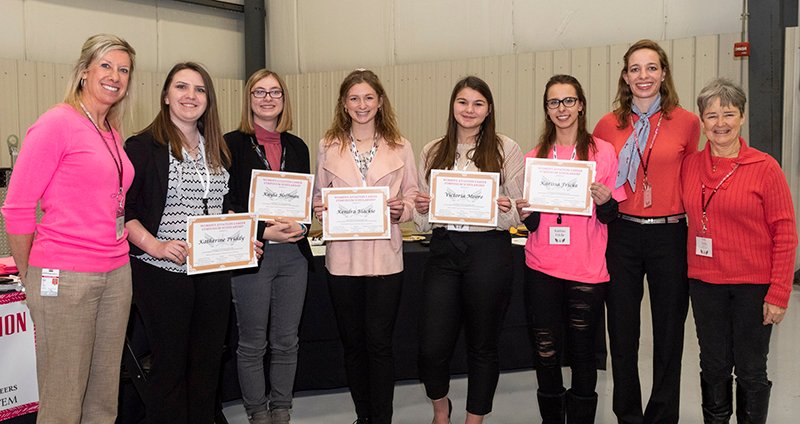 Scholarship winners were Kendra Blackie, Karissa Fricke, Kayla Hoffman, Victoria Moore, and Katherine Priddy. Blackie, Hoffman, Priddy and Moore are working toward Commercial Pilot Ratings, while Fricke is will use the money towards her Airframe and Powerplant Maintenance certificates.
Poirier, an International Captain and Safety Manager at Jackson National, said, "The impetus of the Symposium three years ago was to allow women to network with other women in the aviation profession. There is a real shortage of pilots and mechanics. Women comprise only 7 percent of the aviation workforce and more women need to be introduced to the many opportunities available in these high paying and rewarding careers."
"Over $6 Million is available every year for training in many different fields," said Hagg, Women in Aviation Great Lakes chapter president and corporate pilot for GrandAir Aviation, "Many of these scholarships go unused and our goal is to make people aware of this important resource and help them pursue their dreams."
Keynote speaker, Kari Smith, an Engineering Manager at GE Aviation, discussed her career and addressed the need for more women to enter the field of aviation. Smith, who spent 23 years on active duty, accumulated over 3,500 flight hours as a KC-135 instructor navigator. Smith told attendees, "Find your passion, ask a lot of questions, and stay positive. If one door closes, check to see if there's a window open, then go through it to another career option."
Smith further advised, "Don't take no for an answer. If I had a nickel for every person who told me I couldn't do something, I'd be rich!"
The response from the attendees was positive and encouraging. Many of them were impressed by the professionalism and wealth of knowledge from all of the panelists. One attendee remarked that she learned more about aviation from this conference than she ever knew before and is planning on starting her flight training.
This year was a great success thanks to generous sponsorships from Dassault Falcon Jet, Francine and Theodoor Hagg, GrandAir Aviation, Inc., Meijer, Duncan Aviation, MASCO, Mead and Hunt, Northwestern Michigan College, Satcom Direct, Stryker, and Western Michigan University. The WACS more than tripled their amount of scholarships awarded, raised nearly $10,000, and increased their attendance by 52 percent.
The symposium included round table panel discussions with prominent women in their professions, aircraft tours, interactive displays, and booths featuring several Michigan aviation companies and schools. Following the event there was a tour of the Lansing Air Traffic Control Tower.
The Fourth Annual WACS event has been scheduled for January 23, 2021. For more information, contact wacsmichigan@gmail.com.