Kevin Dillon, A.A.E., executive director of the Connecticut Airport Authority, was presented by AAAE Chair Perry Miller, A.A.E., I.A.P., with AAAE's Distinguished Service Award recently, one of AAAE's highest levels of recognition.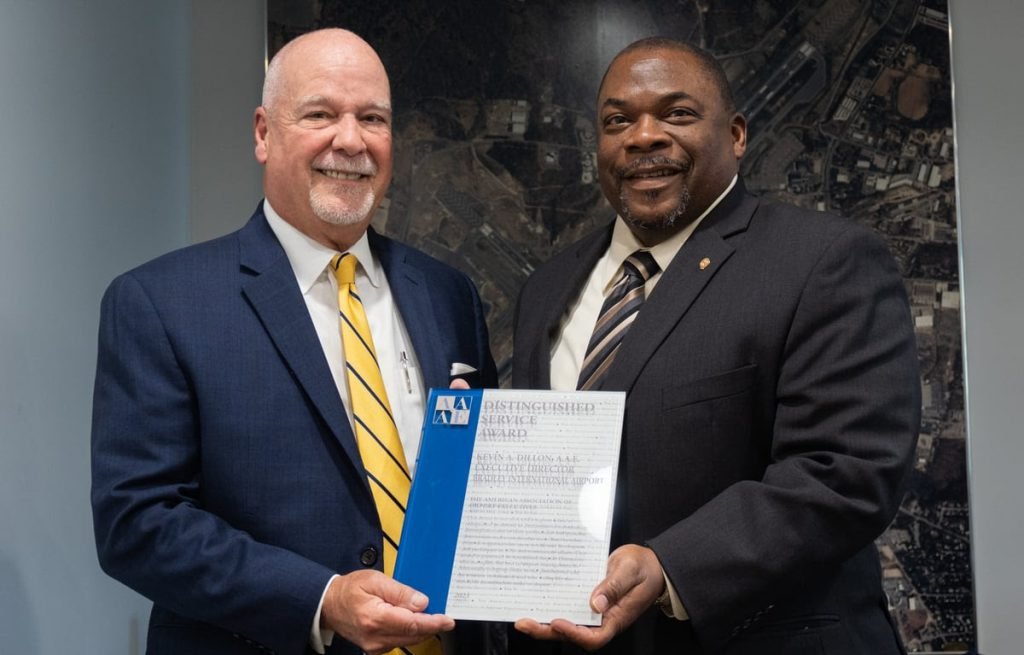 Dillon has served the nation's airport community for nearly 50 years. He has been active with AAAE throughout his career, becoming a member in 1994 and earning the distinguished Accredited Airport Executive designation in 2003. He is a member of the Policy Review Council and previously served as a member of the national board of directors. In addition, he has been very active in the Northeast Chapter of AAAE, serving as president from 2004-2005 and on the Past President's Council.
The Distinguished Service Award honors exceptional airport executives who have achieved outstanding accomplishments in their professional and personal lives. Respected leaders in their communities, recipients serve AAAE and its chapters, contribute to other aviation organizations and are active participants in civic and community affairs.
In front of community leaders and colleagues at Bradley International (BDL) in Hartford, Conn., Miller noted that "Kevin's legacy is defined by an exceptional track record of achieving robust financial performance at the airports under his stewardship, setting a standard of excellence."
"His ability to forge enduring partnerships with the FAA, airlines and the community and airport stakeholders showcases his exceptional talent for collaboration and relationship-building," Miller added. "Kevin's dedication and unwavering commitment to the aviation industry are exceptional."
Dillon worked his way through the industry from the ground up gaining significant experience in every facet of airport management along the way from his early years at the Port Authority of New York and New Jersey to his leadership posts across the Northeast at Massport, Manchester-Boston Regional and the Rhode Island T.F. Green International.
He joined the Connecticut Airport Authority eleven years ago. "Thanks to Kevin's leadership and with the significant growth experienced at the airport, BDL has placed in the top ten in Conde Nast Traveler's Readers' Choice Awards for the past six consecutive years and was recently named a Top-10 airport in USA Today's best small US airport rankings," Miller noted.