Aveo Engineering announced its worldwide distribution of a cabin and cockpit sanitizing system known as Veolite™, a superior method of sanitizing aircraft interiors with specific wavelengths of light that target and destroy viruses, germs, and molds. Aveo, an established trend-setter in LED aircraft lighting, has turned its expertise in aviation lighting design and manufacturing to address the increased need to keep our cabins and cockpits pathogen-free.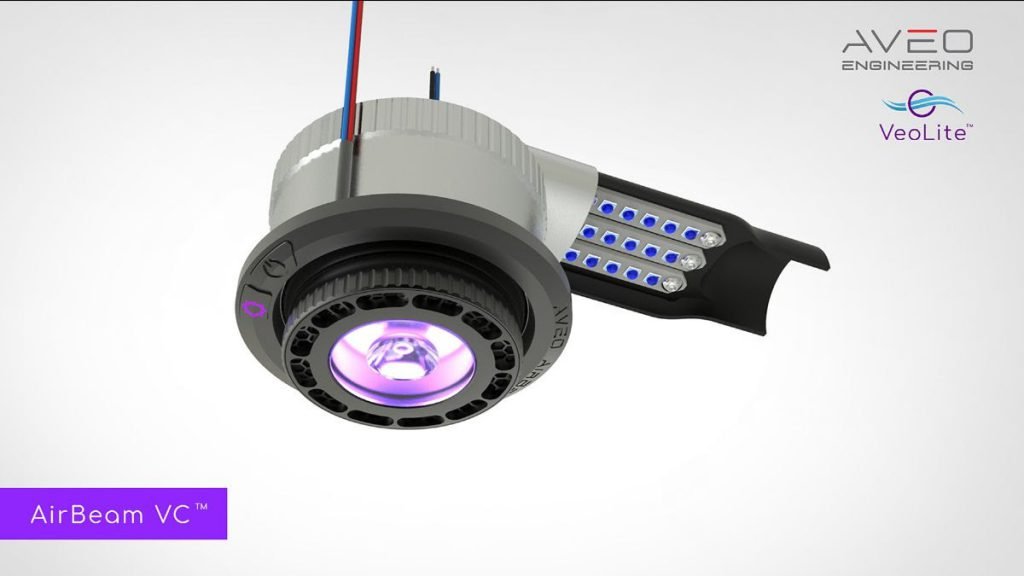 "Traditional interior sanitizing depends on chemical sprays that leave residues and may damage surfaces, even after being wiped down," says Rick Lindstrom, Aveo Southwest CEO. "Veolite technology is much easier to use and is more cost-effective: it requires less labor and training, plus it can be automated to sanitize only when interiors are unoccupied."
Additionally, "This isn't a 'new' technology; it's been around for decades in labs and pharmaceutical manufacturing, but COVID-19 has brought an urgent requirement to quickly and effectively disinfect passenger and crew areas. Aveo's Veolite solutions do this by concentrating the same type of natural disinfecting rays provided by the sun."
Aveo's technology employs several visible and non-visible ultraviolet light wavelengths (depending on whether the interiors are empty or occupied) in its extensive lineup of sanitizing products. Initial installations were dedicated to EMS helicopters.
The visible UV-A "purple" light is safe for continuous sanitizing when the interior is staffed. The more effective UV-C wavelength can destroy the DNA of pathogens in as little as three seconds, but like the sun can eventually cause skin and retina damage. A recently developed technology known as "far-UVC" has promise to be the best of both worlds: it is highly effective, yet safe for humans and animals.
To sanitize the odd spaces not in the direct coverage of the fixed lights that can mount almost anywhere inside cabins, cockpits, galleys, lavatories, and other areas, Aveo has developed a handheld wand system that uses rechargeable batteries that provide 2 to 5 hours of use, depending on battery options. The wands can also be used separately, as passengers, crew, and luggage board otherwise-unequipped aircraft.
For full options, pricing, and delivery, contact Rick Lindstrom: rick@aveosw.com 925.443.9999