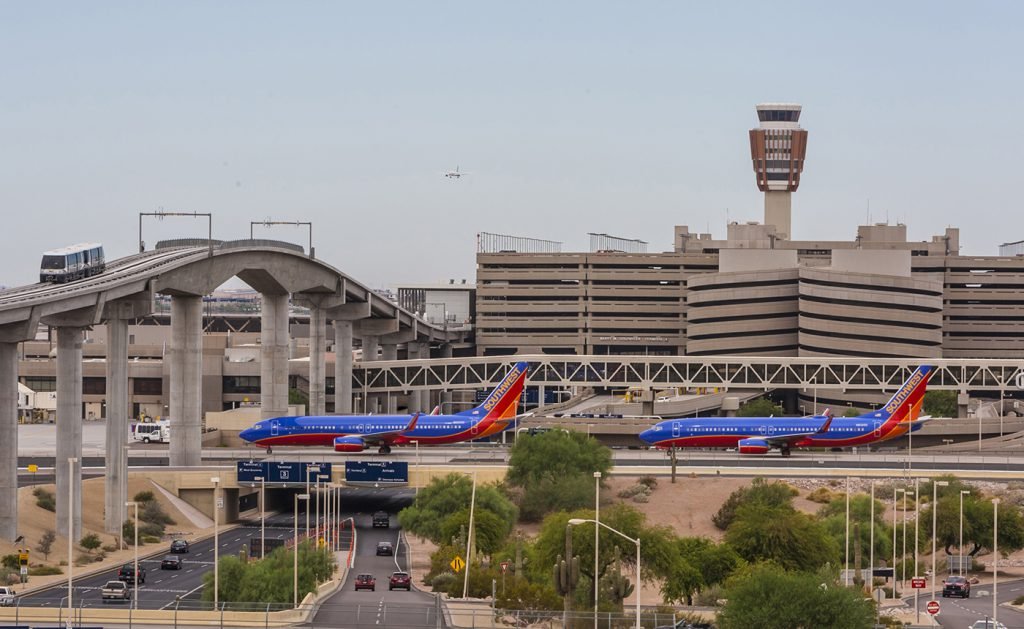 Southwest Airlines recently announced that it will increase its presence at Phoenix Sky Harbor International Airport over the coming years. Accompanied by Phoenix Mayor Greg Stanton, Southwest's President Tom Nealon told a gathering of the PHX Aero Club that the airline has committed to occupying a future eight-gate concourse at Terminal 4. The concourse, which will be the eighth and final concourse at Terminal 4, is scheduled to open in 2021. Southwest, one of Sky Harbor's two largest carriers, currently occupies three concourses at Terminal 4.
"We've never wavered in our commitment to serving Phoenix's travelers," said Tom Nealon, Southwest Airlines President. Our customers tell us they love the hospitality they receive at Sky Harbor and we're looking forward to welcoming them into our new space when the new concourse opens in just a few short years."
Nealon also announced today that Southwest is investing more than $40 million to expand the carrier's maintenance facility at Phoenix Sky Harbor. Southwest is adding a hangar and doubling the number of maintenance bays from two to four at the Phoenix facility.
"Southwest Airlines has always been a vital partner for Phoenix, and their continued investment in Sky Harbor and commitment to this market demonstrates how important we are to them," said Mayor Greg Stanton.
"Phoenix Sky Harbor is prepared for additional growth to serve this community," said Phoenix City Councilwoman, Kate Gallego, District 8. "We are so pleased to have such a strong partner in Southwest Airlines."
"Today's announcement by Southwest Airlines, our longtime partner and one of our largest carriers, validates the investment the City of Phoenix has made in Phoenix Sky Harbor International Airport," said District 5 Councilman Daniel Valenzuela, Chair of the Downtown, Aviation, Economy and Innovation Subcommittee. "Phoenix Sky Harbor is more than one of the busiest airports in the nation, it is also a fierce economic driver not only in the City of Phoenix but also for the entire region and the state, providing a return on investment with a total economic impact of nearly $30 billion, and supporting over 240,000 regional jobs."