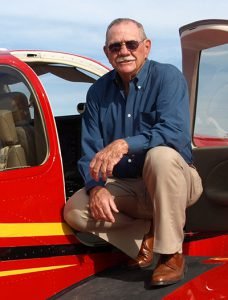 The Cutter family recently shared the news with the aviation community that William "Bill" R. Cutter passed away peacefully on Tuesday, December 11, 2018. The family stated in a release that this is a profound loss for all that knew and loved Bill as the patriarch of his family and the aviation community.
A life-long aviation enthusiast, Mr. Cutter learned to fly sitting on his father's lap and became an ATP rated pilot in fixed wing, helicopter and lighter than air aircraft, along with achieving several jet and turbo-prop type ratings. As an aviator, he accumulated thousands of hours during his life, with his most recent flying being in his treasured 1944 Beech Model 17 Staggerwing.
Continuing the family legacy started in 1928 by his father, William P. Cutter, Bill established Cutter Aviation's facility at Phoenix Sky Harbor Airport in Arizona, which went on to become the company's largest facility and corporate headquarters. Cutter, along with his son Will, grew the Cutter Aviation network by opening numerous locations throughout the Southwest.
In his lifetime, Cutter was honored numerous times; most notably at the Smithsonian National Air and Space Museum, the New Mexico Military Institute, the Pima Air & Space Museum (Hall of Fame, inducted with his father William P. Cutter) and was named "Man of the Year" by Beechcraft. Bill was also proud to have served his country as a member of the United States Army.
Throughout his entire life, Bill could always be found walking the ramp and halls of Cutter Aviation speaking with his employees on a first name basis. He had a larger than life personality and was quick to share anecdotes with those around him. He was a gentleman's gentleman, humbleness surrounded his daily actions. He leaves us with a keen sense of loss and heartfelt gratitude – we are better people for having known him.
Bill was preceded in death by his parents William P. and Virginia, wife Gwendolyn and brother Sidney. He is survived by his children, son Will and daughter Kathryn "Kay"; along with four beloved grandchildren, Will 4.0., Brooke, Madison and Anna.