The National Association of State Aviation Officials (NASAO) successfully concluded its 2022 Annual Convention and Tradeshow in Greenville, SC with 38 State aviation leaders and 43 exhibitors participating.
"State aviation leaders and their partners from the FAA, other aviation associations and the private sector gathered in record numbers this week," said Greg Pecoraro, NASAO President and CEO. "NASAO's largest annual meeting ever provided everyone a unique opportunity to discuss the future of the industry, explore best practices, and share experiences. Aviation emerges from the pandemic into rapid growth and the opportunity to welcome emerging technologies that will transform how Americans access the aviation system. We're looking forward to a new year for NASAO of increased engagement across aviation and with aviation policymakers."
The convention sessions addressed a variety of topics including integrating uncrewed aircraft systems (UAS) into the national airspace system, preparing for advanced air mobility (AAM) operations, and addressing aviation workforce development challenges. Key convention events included luncheon keynote session with Steve Townes, CEO & Founder Ranger Aerospace & President & CEO, ACL Airshop; an update from Washington with FAA Associate Administrator for Airports, Shannetta Griffin; announcement of the 2022 NASAO award winners; and election of the 2022-2023 NASAO Board of Directors.
NASAO looks forward to hosting next year's convention at the Embassy Suites, Northwest Arkansas Hotel, Spa & Convention Center in Rogers, AK, from September 9-13, 2023, followed by Pennsylvania in 2024!
2022 NASAO Awards
During the convention, NASAO leadership named the recipients of the 2022 NASAO Awards, which honors state and individual contributions to aviation. The 2022 NASAO Award winners are:
Most Innovative State Program Award: Aerospace & Aviation Education Program – Oklahoma Aeronautics Commission (OAC)
The award recognizes truly unique and service-oriented state aviation programs, projects, and activities. Many innovative aviation programs that began at the state level have spread to other states or in some cases have been adopted or accepted by the federal government and the aviation community. This year, NASAO recognized the Oklahoma Aeronautics Commission for its Aerospace and Aviation Education Program, which has impacted thousands of students with varying levels of awareness, exposure, and certification to better prepare them for a career in the aviation and aerospace industry in Oklahoma.
State Aviation Distinguished Service Award: Mike McHugh, Aviation Education Coordinator, North Dakota Aeronautics Commission
The award recognizes and honors state aviation personnel who have excelled in their service and dedication to aviation progress and development in their state. This year, NASAO recognized Mike McHugh for leading initiatives that enhance and advocate for aviation education throughout the state of North Dakota. His work has included creating an aviation education scholarship program, forming collaborative partnerships with multiple school systems to establish new high school aviation programs, establishing an annual Career Day Expo for high school students.
NASAO Center Aviation Education Program Award: Virginia Education and Outreach Program
The NASAO Center for Aviation Research and Education established an annual Aviation Education Program Award in 1993 to recognize the efforts of the state aviation agencies educating and motivating the public with aviation-related education programs. The Department of Virginia's Education and Outreach Program conducts outreach and education support to elementary, middle and high school students, with an emphasis on underserved groups. The program has partnered with local organizations to provide education and operational support for 1,000 Virginia Wing of the Civil Air Patrol cadets, help fund high school students gain flight time hours, send over 300 students to the NextGen Aviator's program that provides hands-on experiential learning on aircraft engine maintenance, among many other efforts.
NASAO Board Chair's Award: Mike McHugh, Aviation Education Coordinator, North Dakota Aeronautics Commission
Each year, the Chair of the NASAO Board selects a recipient based on their outstanding contribution to the association and support of the Board Chair. This year, Mike McHugh, Chair of the NASAO Center for Aviation Research and Education, was Mike McHugh, Chair of NASAO Center for Aviation Research and Education, was recognized for leading the development of a strategic plan, which establishes a vision and goals for the Center to achieve over the next several years.
NASAO President's Award: Shahn Sederberg, Communications & Multimedia Manager, Division of Aeronautics, Colorado Department of Transportation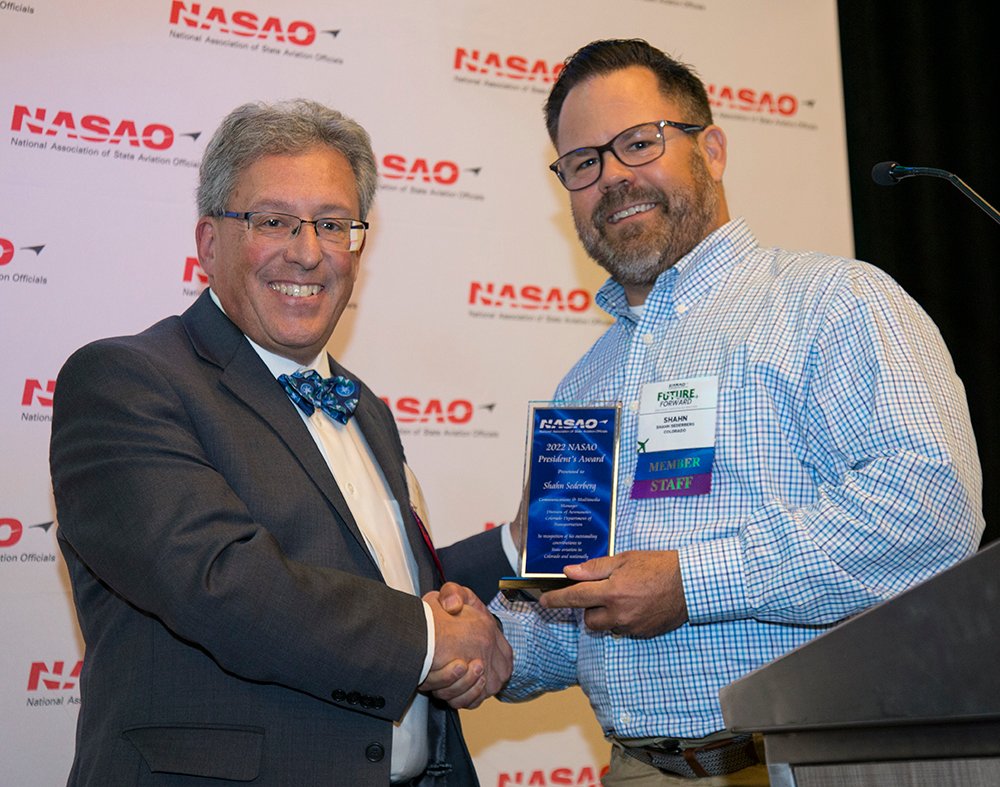 Each year, the NASAO President & CEO selects a recipient based on their outstanding contribution to the association and support of the President's initiatives. This year, Shahn Sederberg was recognized for his unmatched contribution to NASAO's graphics and multimedia activities.