The aviation industry learned of the passing of Walter Boyne last week. As a skilled pilot, impactful leader and prolific writer, he was truly, one of the greats.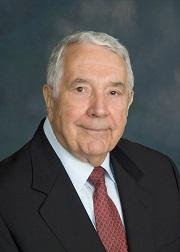 Many in the industry reflected on his numerous contributions to aviation and aerospace, including the heads of the National Aviation Hall of Fame and the National Aeronautic Association (NAA). Mr. Boyne was a former Chairman of NAA and enshrined into the National Aviation Hall of Fame in 2007.
"Few people take the time to share their wealth of knowledge like Walt Boyne did", said National Aviation Hall of Fame President and CEO Amy Spowart. "Our Enshrinees are impactful in many ways, including their skill as pilots and aviators from which they gain a ceaseless fact base. Colonel Boyne had both and, fortunately for all of us, he had an insatiable need to share it through his writing. His legacy is that his knowledge will remain as a gift to future generations."
"Whether as a test pilot, as Director of the National Air & Space Museum, or as one of the best and most prolific aviation writers who ever lived, Walter left his stamp on American aviation," said Greg Principato, NAA President. "In each of these roles he inspired future generations to even greater heights. Walter's legacy was recognized by, among so many awards, the Aero Club of Washington's Engen Trophy."
Boyne chaired the NAA board during a difficult time for the organization and according to Principato, steered the organization through to new heights. "Walter will be missed but can never be forgotten."
Boyne joined the Air Force in 1951 and earned his wings a year later. He flew as a B-50 and B-47 combat crew member in the Strategic Air Command and later was a nuclear test pilot with the 4925th Nuclear Test Group at Kirtland AFB, flying both the B-47 and B-52.
After his service in Vietnam, Colonel Boyne retired and was hired at the National Air and Space Museum as an assistant curator in 1974. Later he was appointed as its Director. From 1983 to 1986 Boyne oversaw many aspects of museum operations and pioneered numerous projects to provide the highest level of aerospace education and information.
In 1988 Boyne co-founded "Wingspan – the Air & Space Channel". He served as President of the National Aeronautic Association from 2006 to 2014.
Boyne began a prolific research and writing career in 1962. After Vietnam, Boyne sold his first article about the P-36 Curtiss Hawk to the British Royal Air Force review, for which he made $29. Since then, he has written more than 1,000 articles, 44 non-fiction books and seven novels, all focused on aviation, with several books appearing on the New York Times Bestseller list.
Colonel Boyne was enshrined into the National Aviation Hall of Fame with the Class of 2007. "Walt was an engaged and supportive Enshrinee, "according to National Aviation Hall of Fame Chairman Michael Quiello. "Walt shared his skill as an historian to serve as a Selection Committee member and Enshrinee liaison on our Board of Nominations, which is the foundation and basis of our mission. His collaboration was paramount and we will always be indebted for his generosity."