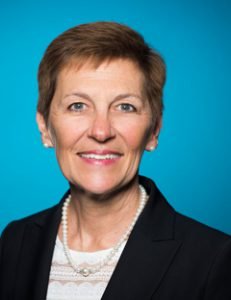 American Airlines has announced that Suzanne Boda has been named Senior Vice President – Los Angeles. In this newly created position, Boda will be charged with developing and achieving American's strategic goals as it continues to strengthen its presence in Los Angeles and throughout Southern California. American is the largest carrier at Los Angeles International Airport (LAX), with more than 200 daily flights to 70 destinations on five continents.
Boda, who joined American in 2008, currently serves as American's Senior Vice President – Hub and Gateway Operations, where she coordinates operations across the airline's largest airports. She began her aviation career more than 30 years ago with Northwest Airlines, where she held positions in both the U.S. and abroad. She holds a Bachelor of Arts degree in Asian studies and in Spanish from Gustavus Adolphus College in St. Peter, Minnesota. In her new role Boda will report to Stephen Johnson, Executive Vice President – Corporate Affairs and Kerry Philipovitch, Senior Vice President – Customer Experience.
"American has a long, proud history of serving Los Angeles," said Johnson. "Suzanne's leadership will help us build on the momentum that has enabled us to become the preferred airline at LAX and in Southern California. Over the last 16 months, we have added or announced service to 24 new destinations from LAX – including Sydney, Auckland, Hong Kong and Beijing – recruited more than 500 new LAX team members, made significant investments in our facilities, and established key partnerships with local institutions that serve the Los Angeles area community."
"As we look to expand in Los Angeles, Suzanne's experience and her ability to connect team members across our operational, sales, marketing and corporate affairs groups to achieve shared objectives make her the right choice for this important role," said Kerry Philipovitch, Senior Vice President – Customer Experience. "As Suzanne transitions to her new position, we have talented leaders ready to take on new responsibilities to continue to build on the strong foundation we have in place. I look forward to where they'll take American."
Joe Taney, Senior Vice President – Hub and Gateway Operations
American has promoted Joe Taney to Senior Vice President – Hub and Gateway Operations to assume Boda's previous position. Taney will coordinate leaders to deliver safe, reliable, consistent operations at American's hub and gateway airports in LAX, Dallas/Fort Worth (DFW), Charlotte, N.C. (CLT), Chicago (ORD), Miami (MIA), New York (JFK and LGA), Philadelphia (PHL), Phoenix (PHX) and Washington, D.C. (DCA). He will report to Philipovitch.
"Joe's strong track record of supporting large teams to deliver operational excellence, extensive experience leading large hub airport operations and passion for developing leaders and frontline team members have him well-prepared for his expanded role," said Philipovitch.
Taney joined American in 2014 as Vice President – PHL Hub Operations and in 2015 assumed leadership of DFW, American's largest hub. The DFW team has achieved significant operational performance improvements under Taney's leadership. Before joining the company he held senior leadership roles at Northwest Airlines and the Transportation Security Administration. Taney earned a Bachelor of Science degree in social sciences from the University of Wisconsin-River Falls.
American has also made two additional executive appointments today:
Cedric Rockamore, Vice President – Philadelphia (PHL) Hub Operations, will succeed Taney as Vice President – DFW Hub Operations.
Olympia Colasante, Managing Director – London Heathrow (LHR) Operations, has been promoted to Vice President – PHL Hub Operations, assuming Rockamore's previous position.
In his new role, Rockamore will lead American's largest hub, with nearly 800 daily departures serving 75,000 customers each day. He will report to Taney.
Rockamore joined American in 2010 as Director of Ramp Services in Philadelphia, was promoted to Managing Director – DCA Hub Operations in early 2014, and was promoted to Vice President – PHL Hub Operations in 2015. Prior to joining American, he worked for Delta Air Lines, Atlantic Southeast Airlines and Northwest Airlines. Rockamore earned his Bachelor of Science and Masters of Business Administration degrees from Embry-Riddle Aeronautical University. He also served 10 years in the U.S. Navy.
In her new role, Colasante will be responsible for leading a team of nearly 3,000 airport employees who serve nearly 60,000 customers with 400 departures each day. She will also report to Taney.
Colasante began her career with the airline as a Customer Service Supervisor in Ottawa in 1990. She has served in international roles leading Canadian, Caribbean and LHR operations. Colasante studied languages at the University of Ottawa and is fluent in Spanish, Italian and French. Her successor at LHR will be named in the coming weeks.