The Flying Musicians Association (FMA) has announced their 2018 FMA Solo scholarship recipients – John Laughman of Pleasant Hill, Ohio and Nathan Nothelle of Imlay City, Michigan.
Nominations from all across the United States and Canada made the selection difficult. John Zapp, co-founder and President of FMA, said, "Every nominee was spectacular, but we had to choose just two, and we are very proud of these enthusiastic, talented young people."
The FMA Solo Scholarships are made possible by sponsors, donors, and members' donating their time and talents; and through hosting FMA's popular HangarJAMs. FMA has soloed six student musician Scholarship winners in three years.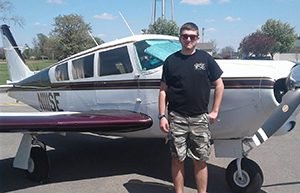 This scholarship is unique, bringing an aspiring music student from zero time to solo. FMA covers roughly fifteen hours of dual instruction, online ground school, training materials, and additional products from sponsors. FMA envisioned and instituted this scholarship program because it recognizes the parallel skills involved in flying and performing music and wants to promote both areas of growth in our inspired and dedicated future leaders.