To better prepare pilots to fly the AeroJones Aviation Technology Co., Ltd., CTLS Light-Sport Aircraft currently manufactured in Xiamen, China, the company created a full-motion flight simulator. This machine proved to be a major attraction at AirVenture Australia (AVA) in New South Wales.
The AeroJones CTLS Simulator allows pilots — or those entering a light aircraft for the first time — to learn the operation and controls of the modern carbon fiber airplane with state-of-the-art digital instruments. With large TV screens providing a simulated horizon, a six-axis motion system gives visual and tactile feedback to occupants. In short, it perfectly imitates an actual flight in the world's most popular Light-Sport Aircraft.
Even knowing the high state of technical sophistication in their Simulator, AeroJones did not initially realize what a successful product they were creating with the CTLS Simulator. At the AirVenture Australia show at Parkes Regional Airport, the AeroJones CTLS Simulator attracted crowds that grew into long lines every day.
"We had 70 people on the opening day, 80 on the second day, and more than 100 people on the third day. Despite limiting those sampling the CTLS Simulator to a few minutes per person, AeroJones staff and our Australian dealer, Michael Monck, were busy from opening to closing," said Charlie Chen, who handles international business for AeroJones. Monck also serves as Chairman of Recreational Aviation Australia and is the developer of eLogger, an online method of logging pilot flight hours.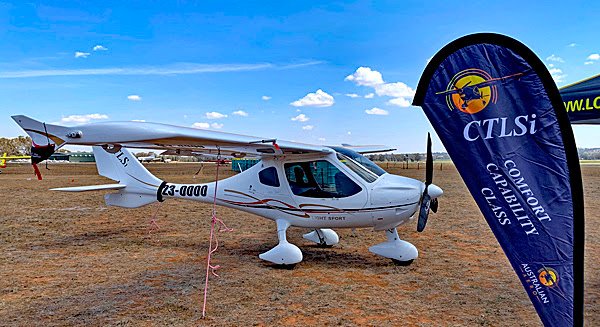 "Every day was busy, but the third day schedule was packed full for 10 hours to accommodate all those interested by the CTLS Simulator AeroJones shipped to Australia for the event," added Chen. "More than 250 people took an opportunity to simulate a flight in our CTLS aircraft."
In its home country of China and in nearby Taiwan, AeroJones has taken multiple orders for the CTLS Simulator to be used in universities and flight training operations. As the nation works to supply more pilots to its airlines, military, and for personal and business flying, innovative products like the CTLS Simulator are helping to introduce Chinese students to light aircraft. Since most have never seen such a flying machine, a CTLS Simulator can provide a first-contact opportunity to millions of Chinese citizens.
CTLS Simulator can be acquired for a modest price of about USD 50,000 during the product's introductory phase. "At this price and given its high state of development, AeroJones CTLS Simulator is an excellent value," said Monck. Other full-motion cockpit simulators often cost far more than AeroJones' CTLS Simulator.
SIMULATOR PLUS FULL AIRCRAFT AND A FLIGHT SCHOOL
In addition to the CTLS Simulator, AeroJones has also been building the full-flying CTLS Light-Sport Aircraft in its Xiamen facility. "Approval has been granted for both the design and manufacture of the aircraft by CAAC, the Civil Aviation Administration of China," said Mr. Hsieh Chi-Tai, General Aviation Development Vice President for AeroJones Aviation. First developed in Germany, AeroJones acquired all manufacturing and distribution rights in the Asia-Pacific region for the world's best-selling Light-Sport Aircraft.
As AeroJones prepares to expand its airplane manufacturing, the Xiamen company is working with leaders of Zhenjiang, China to create a brand new manufacturing facility near the Dalu General Airport. Work to build the all-new factory will begin in late 2019.
Already functioning in the new location is the AeroJones flight school operation at Dalu General Airport near Zhenjiang City. "AeroJones' Zhenjiang flight school makes effective use of their 6-axis of motion CTLS simulator, which was first shown to the public at the Zhuhai airshow in fall of 2018," said Michael Chou, who handles marketing for the Xiamen company. "The CTLS simulator has dual control joysticks and rudders so an instructor can help a student learn the procedures and perform maneuvers."
"The market is growing for Chinese general aviation," said Chou. "The combination of new factory, a professional flight school, and the full-motion simulator are strong assets allowing AeroJones to provide the most complete light aircraft operation in China."